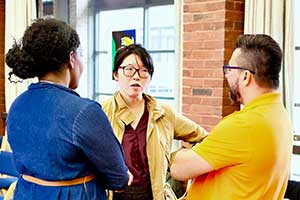 SEED partners with communities, organizations, and institutions to bring people together to learn through self-reflection, to build relationships through structured dialogue, and to create change through systemic analysis.
Driving Social Change, One Conversation at a Time
SEED provides transformational professional development that prepares leaders to facilitate conversations that drive social change within their institution. After the initial New Leaders Training, SEED provides ongoing, year-round resources and support for SEED leaders as they learn, grow, and develop their own seminars in their communities, organizations, or institutions.
Transform Yourself, Transform the System
SEED seminars are grounded in personal reflection and testimony, listening to others' voices, and learning together in the context of intersecting identities and systemic analysis. Seminar participants deepen their understanding of systems of power and oppression and the role they can play in driving change toward diversity, equity, and inclusion while centering wholeness, wellness and just relationship for everyone involved.
Developing Leaders Who Work Toward Justice
Since 1987, SEED has trained more than 4000 leaders from 1200 partner sites - including preK-12 and university educators, parents, community leaders, and other public employees from 45 U.S. states and 15 countries.
Learn more about who we are, what we do, how to partner with us.
SEED is co-directed by Gail Cruise-Roberson and Emmy Howe at the Wellesley Centers for Women, MA, and Jondou Chase Chen at the Southeast Seattle Education Coalition, WA.