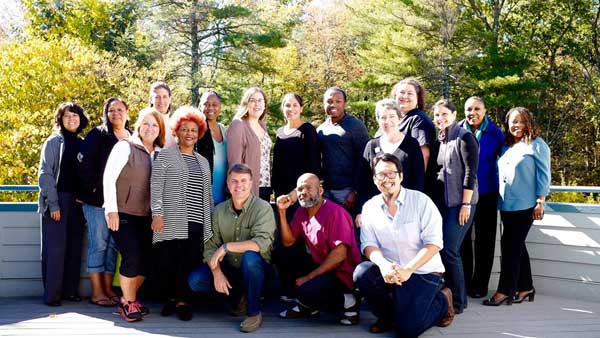 We are happy to announce that ReSEED 10 will be a virtual SEED experience!
Four Sundays in November (1, 8, 15, 22 from 4-6pmET/1-3pmPT)
Given all that is happening in the world, we hope you are making it. And given all that is happening in the world, this seems like a strange time to add even more to our schedules,yet we know that our work is more necessary than ever. As such we have reconceived ReSEED 10 to respond to the need to meet in the virtual world.
Therefore we will be meeting on Zoom synchronously on four Sundays: November 1, 8, 15, 22 from 4-6pm ET for all participants, with approximately 3-5 additional hours of asynchronous work in preparation for each session. Participants from SEED 34 will have one additional synchronous hour together on Zoom per week.
For over 30 years, SEED's theory of action has consisted of individual reflection and development, interpersonal communication and relationships, and systems analysis and change within communities, organizations, and institutions. With this model in mind, we have developed our ReSEED training for practicing SEED leaders as a chance to revisit, renew, recharge, and recommit to working for a more just world.
ReSEED deepens and broadens practicing and soon-to-be practicing SEED leaders' ability to use our methodology more flexibly to bring about individual transformation and systemic change. This is designed to be a rigorous training to extend both self and structural analyses, allowing us to critically engage with all members of our organizations and communities. As a result, all ReSEED participants will leave with their own set of practices and strategies to function more powerfully and passionately to seek educational and organizational equity.
Rolling admissions will start immediately, and we recommend that you apply sooner rather than later. The cost is $1,000/person. Scholarships will be provided to public school participants and others on a case by case basis.
A $300 deposit must be made by October 25, 2020. This is nonrefundable unless the spot is filled by another participant. Full payment of the remaining $700 is due by Dec 1 2020. If you choose to pay in full by the deposit deadline, any amount over $300 is refundable until Oct 25, 2020. Information on how to pay will be sent upon acceptance. (We currently have limited scholarship funds available. Please indicate on the application if you are interested in learning more about these.)
If this session time does not work for you but you are interested in a future session, please let us know (info@nationalseedproject.org) and we will keep you posted.
(If you have not yet attended SEED New Leaders Week and are looking to do so, learn more here.)