What Is a SEED Seminar?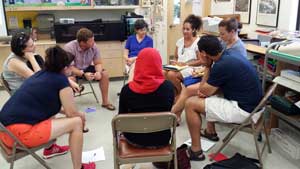 SEED seminars, run by local teachers, faculty, parents, community leaders, or other professionals who have gone to SEED New Leaders Training, are what make SEED such an effective force for professional development, curricular change, and institutional transformation.
A SEED seminar involves participants in (traditionally) a series of monthly, three-hour seminars during the academic year. Teachers, other school personnel, business colleagues, community members, employees of other organizations, or even students may participate in SEED seminars at the discretion of the seminar leader. Participants explore their own education in relation to race, gender, socioeconomic status, religion, sexual identity, abilities, and age, and how these factors currently impact their school, classrooms, community, or workplace. They consider how they can use their classrooms, communities, or workplaces to create a more equitable environment for all.
What is the purpose of a SEED seminar?
A SEED seminar seeks to improve schools, colleges, communities, and workplaces by helping participants make their climates, curricula, and teaching methods more gender fair and multiculturally equitable. SEED seminars help participants reflect upon and connect their individual experiences to the wider systemic context.
How does a SEED seminar differ from a class?
Leaders of SEED seminars do not lecture. Instead, they lead their colleagues in experiential, interactive exercises and discussions often stimulated by monthly films and readings. The seminars deepen participants' understanding of themselves, expand their knowledge of the world, and point the way to making schools, colleges, communities, and workplaces more inclusive.
How does a SEED seminar differ from other kinds of professional development?
At the monthly seminars, participants engage in conversations with colleagues about things they really care about. No outside professional delivers a pre-canned workshop. Hundreds of schools, colleges, communities, businesses, and other institutions find that SEED seminars offer a refreshing and effective way to fight teacher burnout, change their institution's social and emotional climate, and rethink their curriculum and practices.
What does a school, college, community, or workplace gain from sponsoring a SEED seminar?
When an organization, institution, or business sponsors a SEED seminar it demonstrates a commitment to making education and community interaction fair and inclusive. People thrive when they are trusted with their own professional development. Parents appreciate the impact of SEED in their children's classrooms. Parent seminars extend the benefits of re-envisioning the curriculum to the community and create support for improvement and for shared reflection on their own parental practices. Everyone benefits from the expanded curriculum, improved climate, and thoughtful facilitation that SEED seminars promote.
Who can lead a SEED seminar?
A SEED seminar can be led by a facilitator who has participated in SEED New Leaders Training that equips the leader with the necessary skills and knowledge.
What is the setting of a SEED seminar?
SEED seminars meet in libraries, lounges, classrooms, conference rooms, or other spaces that are amenable to group meetings. Food is always provided in order to help create a welcoming, comfortable atmosphere.
How can a school, college, community, business, or other institution sponsor a SEED seminar?
Begin by having a prospective SEED leader complete the application to attend the SEED New Leaders Training training. The sponsoring entity must also make certain that it can provide support for the seminar with time and space to meet and a budget for food.