In 1987, Dr. Peggy McIntosh launched SEED as an experiment to confirm her belief that teachers could be leaders of their own professional development. SEED has become one of the nation's largest peer-led professional development projects.
Since SEED's founding, more than 2,900 N-16 teachers from 45 U.S. states and 15 other countries have become SEED seminar facilitators. In total, SEED seminars have engaged over 30,000 teachers to date, who in turn have influenced more than three million students and helped them experience greater equity and diversity in their communities, institutions, and schools.
SEED had its roots in a series of year-long, monthly professional development seminars for college and university faculty on curriculum revision and expansion held in 1979-81 and 1983-85 at the Wellesley College Center for Research on Women (now the Wellesley Centers for Women). These seminars were coordinated by McIntosh and funded by the Andrew W. Mellon Foundation. That first set of seminars led to another series in 1982-86, sponsored by the Geraldine R. Dodge Foundation, which looked at similar issues with K-12 educators.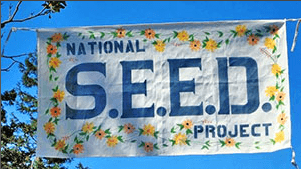 During the course of these seminars, McIntosh saw that teachers did not need an outside facilitator to direct them, but could be prepared to facilitate themselves in an inclusive way that shared power in the group. Based on this idea, SEED launched in 1987 as an annual, week-long summer workshop led by teachers, for teachers, under the guidance of McIntosh and Emily Style, at that time a New Jersey high school teacher, who had participated in one (and later co-led another) of the Dodge-funded seminars.
Informed by McIntosh's seminal work on White privilege, male privilege, and curriculum re-vision, as well as Style's metaphor of "curriculum as window and mirror" and her call for balancing "scholarship on the shelves" with "scholarship in the selves," SEED encouraged teachers to share their own experiences about gender, race, and other systems of privilege and oppression. The first SEED New Leaders Week was held in July 1987 in Claremont, California. Teachers who participated then led year-long, monthly SEED seminars in their own schools and communities, facilitating conversations with their peers about how systems of privilege and oppression relate to school curricula.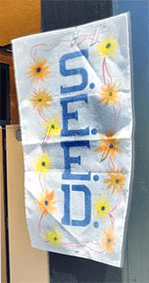 In addition to the National New Leaders Week held in July, multi-year regional initiatives were launched by SEED leaders who saw a need to expand the number of teachers who could attend a SEED summer training. The St. Paul Foundation, among others, funded the Minnesota SEED Branch from 1992 to 2005, in part to help fulfill a new state rule that required the curriculum to deal more inclusively with gender, race, and disability. The St. Paul Foundation and the Dodge Foundation, among others, funded the New Jersey SEED Branch from 1994-2002. In addition, the Lucent Technologies Foundation funded over 100 teachers from Elk Grove School district in Sacramento, California, to attend one of the SEED New Leaders Weeks across three summers, from 1999-2001.
Dr. Brenda Flyswithhawks, a long-time presenter and later manager of the national summer workshops, joined McIntosh and Style as a co-director of National SEED in 2002.
McIntosh, Style, Flyswithhawks, and other SEED leaders continued not only to facilitate the New Leaders Weeks, but also to publish articles and books that further explored SEED concepts. (See the Timeline.)
Over the more than three decades since its inception, the National SEED Project has been funded by local school support funding, 15 foundation grants, and numerous gifts from private donors.
In 2011, SEED received a $2.92 million grant from the W.K. Kellogg Foundation, allowing it to double the number of teachers and parents trained in 2012-14 to lead SEED seminars in their communities and to hold a SEED Leadership Institute for school administrators. The grant also paid the SEED training fees for educators from 18 rural and urban schools that serve the most vulnerable populations. In addition, the grant allowed SEED to launch its website and online presence.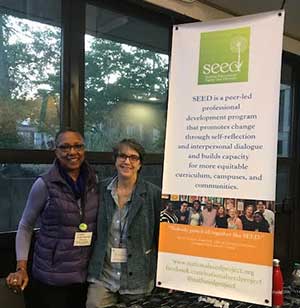 McIntosh stepped aside as co-director to lead the Kellogg expansion in 2011. At the same time, Emmy Howe, the long-time coordinator of the New England SEED Network, elementary school teacher, and founding member of Welcoming Schools came on board as a co-director, joining Style and Flyswithhawks.
In 2013, long-time staff members Gail Cruise-Roberson and Jondou Chase Chen, Ph.D., were named associate directors, and in 2015, they were named co-directors. Staff members Motoko Maegawa and Ruth Condori Aragón served as associate directors from 2017-2021.
SEED remains distinctive in preparing seminar leaders to lead their own professional development with colleagues and in assuming that equity leadership is best developed by people with insider knowledge of their own schools, workplaces, and communities.