Walking in Rosa's Shoes, Part II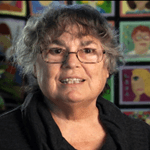 For Black History Month, we're pleased to present the second of a two-part series, taken from a chapter of teacher and SEED staff member Judy Logan's book Teaching Stories. In it, she asks, "Just what is a multicultural and gender-inclusive curriculum?" and answers from her own experience. Part I was published here yesterday.
"Walking in Rosa's Shoes," Part II, from Teaching Stories
The last week of the month I get to sit in the back of the room and watch some amazing presentations. Some students choose to do both their male and female roles in succession, some do just one, then wait until later for their second presentation. Their work delights me. Celeste comes in one morning before homeroom and hands me a white florist's box, and asks me to keep it in the refrigerator for her. Later in class, she carefully, tenderly pins a white gardenia in her hair before beginning her report as Billie Holiday. Her friend pushes the on and off button on the tape recorder so that Billie's music is part of her report.
Bret, whose usual attire is jeans and a sports logo tee shirt, comes to school in a black suit, dons black horned-rimmed glasses, and is Langston Hughes. He then goes behind the file cabinets, and a few minutes later reappears as Sojourner Truth, wearing a large housedress and a cotton scarf on his head. Akiko, her long, black hair pulled back in a pony tail to keep it off her face, has taken a large poster board and cut a hole out of the center, just large enough to stick her face through. Around this hole she has drawn hair, and a small-scale but musular body in boxing trunks, with gloves on, in a ring. She tells her story as Muhammad Ali. Then, she turns the poster board around and pokes her face through again. On this side she has drawn an elaborate hairdo, a shimmering gown. She holds a microphone as she stands on stage, and she tells us her story as Tina Turner. Paul Robeson shows us a part of a film he made, and we listen to him sing. Jesse Jackson and Shirley Chisholm share their campaign speeches. Mary McLeod Bethune tells us about her struggles to begin her school, and Sara Lawrence Lightfoot shares her educational philosophies. Students refer to 3x5 cards, but for the most part they have internalized their stories and tell them from memory.
Celeste, this time as Joe Louis, wears a purple silk robe on the back of which she has taped the words, BROWN POWER. When she gets to the moment in her story when she is fighting for the heavyweight championship of the world, she says, "But wait, it was such an exciting moment, I can't possibly describe it to you. Let me show you . . . " and she slips a tape into the video machine.
Pauline climbs up on my tall, teacher stool. She wraps herself in a large purple shawl. "Dear God," she begins. "My name is Alice Walker. . . ."
Sometimes I interview the students while they are in character. "So, James Meredith, there you were with all those TV cameras, national guardsmen, hostile crowds, how did you feel as you walked down that street toward school?" The students reply in character. "I was scared, but I was determined. And I felt proud. I knew what I was doing was dangerous, but I knew I needed that education and I wasn't going to let anything stop me. I had a lot of support from my friends and community." Sometimes a student will say something like, "Well, Ms. Logan, this happened a long time ago, and I can't remember right now how I felt, but I'll look at my journals tonight and give it some thought, and get back to you tomorrow."
A nice moment in this assignment: Lena, as Zora Neale Hurston, to Bret, as Langston Hughes, "Bret, I know you!" And she tells us about how Zora and Langston's lives intersected. Other students begin telling how they knew or admired other students' characters. They say things like, "I found you in my life too!" We have moved from individual presentations to an exploration of how these people were related in time and space.
Many weeks later the class is on a field trip to the Oakland Museum to see a show called, "Strength and Diversity: A History of the Japanese American Woman." Some parents have volunteered to accompany us, and as we walk towards the museum, Bret's mother says, "Judy, I want to tell you how much I appreciate your social studies program. Not long ago, Bret had some friends over from another school, and I overheard them talking about their classes. Bret had a wealth of information about women and about minorities. And his friends didn't know anything about the people he was talking about. I'm really grateful that he has your class." Nothing is sweeter to a teacher than praise and appreciation from parents.
Comments
No comments made yet. Be the first to submit a comment