Spirit Day and SEED's Impact on Bullying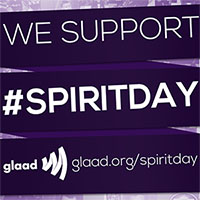 Today is Spirit Day, when millions around the U.S. are speaking out against bullying and in support of LGBT youth. While SEED doesn't need a crisis such as bullying to address the very real power dynamics of race, class, gender, sexual orientation, etc. that play out systemically in schools and communities to the detriment of all, it has had a significant impact in schools wanting to address bullying and harassment.
Faculty and parents at the Roeper School in Detroit, Michigan launched a SEED program several years ago to target bullying in the school system, and it has had a positive impact on the school. Carolyn Lett, campus and diversity coordinator of the Roeper School, told Between the Lines newspaper, "It's more than just anti-bullying. It's about educating ourselves and parents to understand someone else's experience, privilege or struggle."
In SEED seminars, participants learn to take a systemic approach to looking at oppression and privilege, rather than seeing them only in terms of individuals making individual choices. SEED engages allies from dominant groups in listening, learning, and taking thoughtful strategic action in order to help break down systemic patterns of oppression that hinder fully realized democratic education for all. SEED seminars put in place an ongoing constructive conversation about sometimes polarizing issues that makes communities more competent to deal with crises when they do occur.
Comments
No comments made yet. Be the first to submit a comment