SEED Teams with Open Circle for Tufts University Workshop on SEL and Equity
SEED Co-director Gail Cruise-Roberson, SEED leader and educator Sarah Fiarman, and SEED leader Kamilah Drummond-Forrester, director of the social-emotional learning (SEL) program Open Circle, recently co-facilitated a workshop on SEL and equity at Tufts University.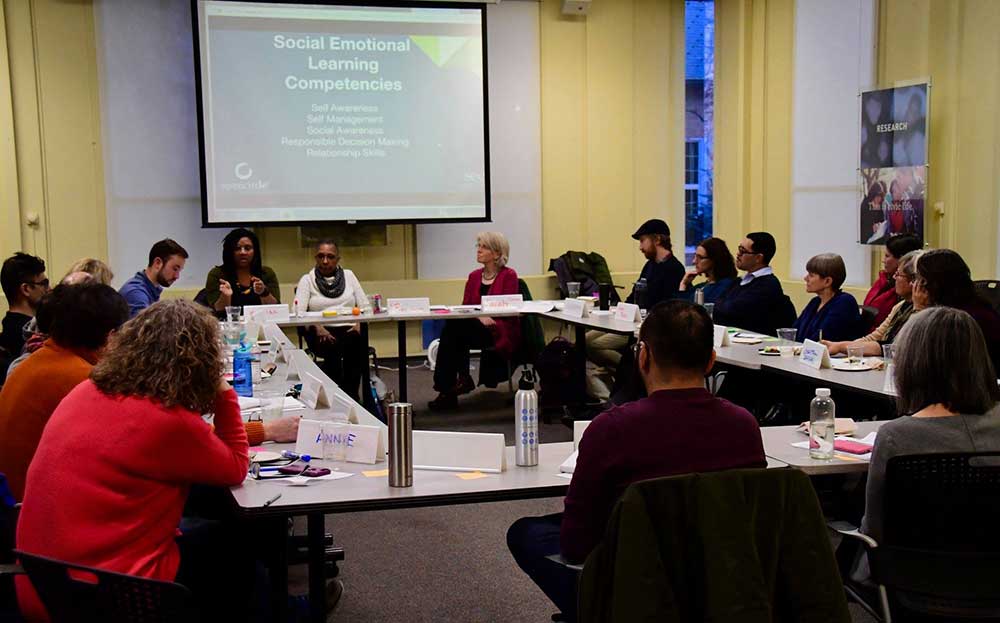 Kamilah Drummond-Forrester, Gail Cruise-Roberson, and Sarah Fiarman (L-R, far side of table)
The workshop was part of the Tisch College SEL and Civic Engagement (SEL-CE) Faculty Fellows program, led by Tisch SEL-CE Associate Director Deborah Donahue-Keegan. SEL-CE seeks to further integrate SEL skills into practices, programs, and research throughout the university, with a special focus on its connections to student engagement in civic life. Although SEL has been encouraged and taught in secondary education for some time, SEL-CE is one of the first programs to focus on SEL in higher education.
During the workshop for faculty fellows, the facilitators "focused on SEL and equity interconnections, particularly in terms of difficult classroom conversations," Donahue-Keegan said. "The Tisch SEL-CE faculty fellows (as well as Tisch College staff members who also participated) gained a lot from the format and skilled facilitation of the workshop," she added. "Kamilah, Gail, and Sarah are each excellent facilitators; together, they are stellar! Each participant identified three concrete ways they will implement their SEL-Equity takeaway learning from the workshop in their courses during the spring semester and beyond. We will draw on this learning during our monthly meetings going forward."
Both SEED and Open Circle are programs of the Wellesley Centers for Women at Wellesley College. Drummond-Forrester said she relished working with her SEED colleagues. "To have the support of Gail and Emmy [Howe, SEED co-director] was profound. They're good at what they do and honor where people are at in their journey, but also provide structures that offer holding space to stretch people beyond their learning edges. SEED has a way of balancing that nicely."
Cruise-Roberson also noted, "Collaborating with Tufts in this way provided an excellent and timely opportunity to broaden the work of both Open Circle and SEED in higher education. The group of approximately 25 faculty and graduate students expressed appreciation for the chance to explore their own personal stories, see how they can impact their teaching and relationships with students, and leave with concrete strategies for actions they can implement as a result."
Comments
No comments made yet. Be the first to submit a comment