SEED Summer Staff Member Wins Teaching Tolerance Award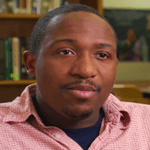 Congratulations to SEED Summer Staff Member Christopher Avery, one of the five winners of the 2014 Teaching Tolerance Award for Excellence in Teaching!
Watch Chris talk in the video below about his approach to education. Note his mention of "windows and mirrors" and "half the curriculum walks in when the students come in," key SEED concepts formulated by SEED Co-director Emily Style. Also read Chris' thoughts on "Identifying Identity" over on the Teaching Tolerance site, and learn more about Chris and the other winners at The Huffington Post.
Comments
No comments made yet. Be the first to submit a comment