SEED Salutes Roybal Family as Edward Roybal is Honored with Presidential Medal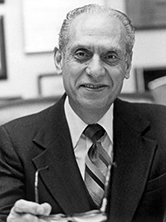 The SEED Project pays tribute to a second-generation activist, Lillian Roybal Rose, whose father Edward Roybal is one of the (posthumous) recipients of this year's Presidential Medal of Freedom, the nation's highest civilian honor.
A White House ceremony today will honor Edward Roybal's accomplishments as a groundbreaking Mexican-American public servant from East Los Angeles who served in the U.S. House of Representatives for 30 years. When he retired in 1993, his daughter Lucille Roybal-Allard (Lillian's sister) began her own work as a public servant in Congress where she is still serving, as U.S. Representative for California's 40th Congressional District.
For almost twenty years in SEED, the politically and psychologically astute teaching and writing of Edward Roybal's daughter Lillian Roybal Rose have informed how the New Leaders' Weeks train SEED leaders, thereby influencing the ongoing work of SEED in schools and communities across the nation and the world
With respect and gratitude, we offer links to two of her articles here:
Lillian and her daughter will be present today at the White House for the conferring of this honor on her father and eighteen others. We in SEED find ourselves inspired by the Roybal family's contributions and cross-generational work toward helping our country's democractic ideals come further into being for all of us.
Comments
No comments made yet. Be the first to submit a comment