SEED Leaders to Present at People of Color Conference on Engaging Administrators Around Equity and Justice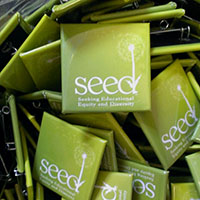 Going to the National Association of Independent Schools People of Color Conference this week in Anaheim, California? Join SEED staff member Patricia Matos and SEED leader Roderick Fludd to learn how the structure and work of SEED has been adapted in two schools to create conversational communities of administrators around issues of equity and justice.
Matos (Greenwich Country Day School, Connecticut) and Fludd (Shorecrest Preparatory School, Florida) will be holding their session, "The Room Where It Happens: Engaging Senior Administrators in Dialogue Around Social Justice," on Thursday, November 30, from 3:45 to 4:45 p.m. (Workshop Block C) in Room 209A. They explain:
The reality that the work of equity and inclusion needs to include the voices at the top is insurmountable. Therefore, senior administrators must engage in their own work where they not only see themselves but also can be imperfect and make mistakes in a space that provides the opportunity to grow and realize the depth and value of equity and inclusion work. Find out how we have engaged administration in this realization through their own work and created an environment where proactive discussions and practices are advancing and leading to the implementation of institutional changes.

Administrators are especially encouraged to join us and participate as we lean into the challenging conversations necessary to address the equitable and inclusive space needed in all of our schools.
Whether you are new to SEED or have led or participated in SEED sessions before, we hope you will attend this session to gain ideas and inspiration from how these two schools used SEED and the impact it had.
Comments
No comments made yet. Be the first to submit a comment