SEED Leaders Reconnect and Recharge at ReSEED
Twelve SEED leaders gathered at the beginning of July for ReSEED — a three-day opportunity to revisit, renew, and recharge their SEED skills. During their time together at the Green Gulch Farm Zen Center in San Francisco, they worked on planning SEED seminar sessions for their local communities and modeled challenging situations they might encounter during SEED seminars.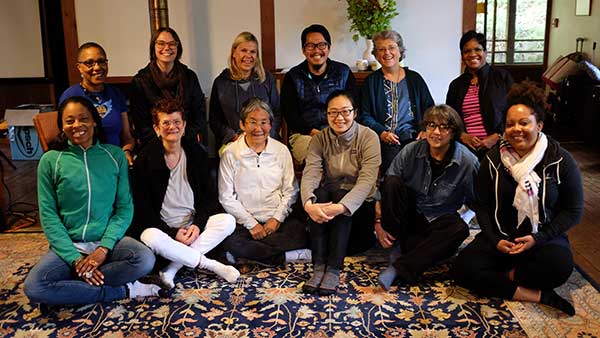 This is the third ReSEED session SEED has held for its previously trained leaders. Some leaders have attended ReSEED sessions the year after their initial training, and others have attended years later. SEED Co-director Gail Cruise-Roberson, one of the two co-organizers of ReSEED, said, "SEED is a journey, an intertwined process of personal and social change. It is a pleasure to see where SEED leaders have traveled and to help them reconnect with each other and with the work we do."
Co-director Jondou Chase Chen, the other co-organizer, observed, "The SEED leaders at ReSEED have shown us once again the power of personal reflection and testimony, listening to others' voices, and learning experientially and collectively as we work towards greater diversity and equity. I look forward to working with them as they continue to run SEED seminars and apply SEED methodology to create change in their schools and communities."
If you are interested in a future ReSEED session, please contact info@nationalseedproject.org.
Comments
No comments made yet. Be the first to submit a comment