SEED Leaders Contribute to New Book on Diversity Work in Schools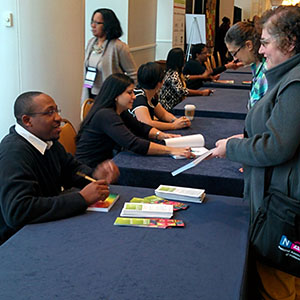 At the National Association of Independent Schools (NAIS) People of Color Conference on December 6, SEED staff member Chris Avery and SEED leader Patricia Matos signed copies of the new NAIS book Diversity Work in Independent Schools, to which they are both contributors.
Matos, a middle school teacher at Greenwich Country Day School in Connecticut, wrote a chapter on "Essentials of the Successful Diversity Program and Diversity Practitioner." She explains why structures within the school, as well as the strategic positioning of the diversity practitioner, are needed in order to incorporate successful diversity programming and generate community support.
Avery, director of community life at The Haverford School in Pennsylvania, wrote on "Professional Development Through SEED: A Practitioner's Perspective." His piece discusses the impact of SEED at Haverford and on him personally. He writes:
For professional development to lead to effective community education for the entire school community, the process for learning must foster reflection on teachers' and staff's own lives and provide opportunities for them to encounter experiences outside of their own schooling or life experience. . . . The goal of SEED is not merely an enlightened focus on understanding other cultures and communities. Rather, it works to bring forth a culturally responsive education where all constituents within the community are given voice and trained to listen to the voices of others.
Congratulations to Chris and Patricia and all of the other authors of this sure-to-be-useful volume! It makes a great gift!
Comments
No comments made yet. Be the first to submit a comment