SEED Founder to Speak at Association of Independent Schools of New England Diversity Conference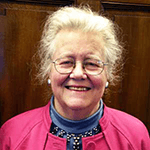 SEED Founder Peggy McIntosh will be one of two keynote speakers at the Association of Independent Schools in New England Diversity Conference this Thursday, October 23, in Chelmsford, Mass. The other speaker will be Anita Hill, Professor of Social Policy, Law, and Women's Studies at Brandeis University. McIntosh's talk will be from 1:00 to 2:00 p.m. and Hill's from 2:30 to 3:30 p.m.
In addition to founding SEED, McIntosh is the author of many influential articles on curriculum change, women's studies, and systems of unearned privilege.
The conference is sold out, but we hope those of you attending will make a point of saying hello to her!
Comments
No comments made yet. Be the first to submit a comment