SEED Founder Peggy McIntosh to be Part of "After Ferguson" Conversation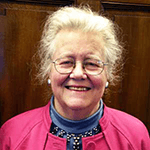 SEED Founder Peggy McIntosh will be part of "After Ferguson," a public conversation at the YWCA Boston's Annual Meeting tomorrow, November 18, along with Sylvia Ferrell-Jones, president and CEO of YWCA Boston and Madison (Matt) Thompson, director of marketing and communications for the Charles Stark Draper Laboratory and facilitator for the YWCA's LeadBoston program. They will be discussing what we can all do to promote racial equality after events in Ferguson, Missouri reminded us all that we do not live in a post-racial America.
The meeting is free and open to the public. Light refreshments will be served.
Date: November 18, 2014
Time: 5:30 to 6:30 p.m.
Location: YWCA Boston: Kuumba Library, 2nd Floor, 140 Clarendon St., Boston, MA
Please RSVP to Rachel at annualmeeting@ywcaboston.org.
Comments
No comments made yet. Be the first to submit a comment