SEED Founder, Co-Directors, and Staff to Lead Workshops at White Privilege Conference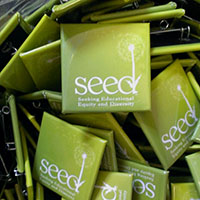 Going to the White Privilege Conference in Kansas City this week? So is SEED! Please join us for one of our workshops or stop by to say hi at our exhibit table.
SEED Founder Peggy McIntosh will be leading "A Conversation on Moral Courage: Doing our Work in the Age of White Supremacy, White Nationalism and Make America Great Again."
Friday, April, 28, Concurrent Workshop #1, 10:15 – 11:45 a.m. Room: Count Basie C.
SEED Co-directors Jondou Chen and Gail Cruise-Roberson, along with SEED Staff Members Patricia Matos, Daniel Cohen, and Randall Carpenter will be offering two sessions of their workshop, "Growing the Consciousness and Community We Need to Dismantle White Supremacy."
Friday, April 28, Concurrent Workshop #2, 12:30 – 2:00 p.m. Room: Trianon C.
Saturday, April 29, Concurrent Workshop #3, 11:00 a.m. - 12:30 p.m. Room: Jay McShann B
We will also be holding an informal social gathering at a place and time to be determined. Come hear what other SEED leaders have been up to, share your own stories, and learn about some of the exciting things happening this year with SEED. If you're already a SEED leader, please watch the Facebook group for SEED leaders for details, or contact info@nationalseedproject.org to let us know you're interested.
We hope to see many of you at the conference!
Comments
No comments made yet. Be the first to submit a comment