SEED Founder Advises Upcoming MTV Documentary on Race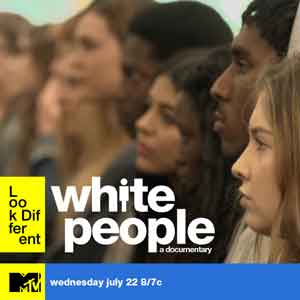 SEED Founder Peggy McIntosh has been one of several advisors to MTV's upcoming documentary White People, which explores race, whiteness, and how young white people perceive their racial identity in an increasingly multiracial America. The film, part of MTV's ongoing "Look Different" anti-bias campaign, was directed by Pulitzer Prize-winning journalist and filmmaker Jose Antonio Vargas, and airs July 22.
White People follows Vargas across the country as he uncovers the stories of five young White people from varying backgrounds, as well as many more young people who participated in conversations at their local schools and community centers about race. SEED has long championed the use of stories to illuminate systems of oppression, and of using conversation as a first step towards action for change. We are pleased to be involved in this project, and look forward to the additional conversations it will spark.
In order to further such conversations on race, Peggy McIntosh has recently made her classic article, "White Privilege: Unpacking the Invisible Knapsack," available online to the public for the first time in an authorized version that doesn't require registration. She is also posting the longer article from which it came, "White Privilege and Male Privilege: A Personal Account of Coming to See Correspondences Through Work in Women's Studies" and "Some Notes for Facilitators on Presenting My White Privilege Papers," a guide for those using her work. All of these pieces may be found at the SEED website.
White People premieres Wednesday, July 22 at 8:00 p.m. ET /PT on MTV and will be simultaneously available on MTV.com, the MTV App, MTV's Facebook page and its YouTube channel, as well as the following morning on iTunes, Amazon Instant Video and MTV's Video On Demand services.
Watch a clip here.
Comments
No comments made yet. Be the first to submit a comment