SEED Co-director Honored with Native Veterans
SEED Co-director Brenda Flyswithhawks, who served in the U.S. Air Force during the Vietnam War, was honored this week along with fellow Native veterans.
She told us:
I had a great day at Sonoma County Indian Health Project (SCIHP) Veteran's Day Luncheon and Honoring of Native Veterans. Always great to be with fellow-vets and to be appreciated by your community. They blessed us with a wonderful video tribute to local Native Veterans and gifted us with this beautiful bag and hat ... still feels good to have some one say, "thank you for your service." Thanks SCIHP!!
We at SEED thank her — and all veterans — for their service as well.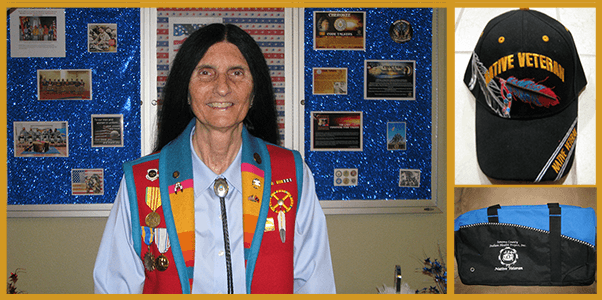 Comments
No comments made yet. Be the first to submit a comment