SEED at the NAME Conference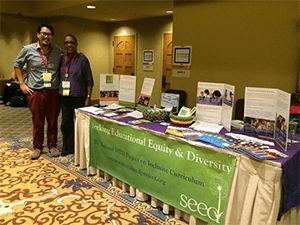 "Dismantling Fronteras through Multicultural Education" was the theme of the recent 24th annual NAME (National Association for Multicultural Education) conference held in Tucson, Arizona. The gathering brought together over 300 educators from elementary schools, high schools and universities who are committed to educating for empowerment and social justice. SEED presented a session on "Curriculum as Window and Mirror," a concept first developed by Co-director Emily Style to show how students need to see their own stories, as well as those of others, throughout their education.
By using pictures from the artist Carmen Lomas Garza, the trailer from the diversity education film That's a Family, a profile of the political cartoonist Lalo Alcaraz, and an article by a White parent who realized how she can use her privilege to challenge the differential disciplinary treatment of children of color, we blended a variety of resources and perspectives. Co-director Emmy Howe, Associate Directors Jondou Chase Chen and Gail Cruise-Roberson, and Summer Staff Member Victor Rios led the session. It was received with enthusiasm and appreciation.
While there was an incredible array of session offerings, one of the most compelling and energizing topics was the response to the dismantling of the Mexican American Studies (MAS) program in Tucson by the state government. It was moving and powerful to hear the personal stories about the MAS from educators who'd spent years building curriculum that reflected their students' lived experiences and empowered them to have a future that reflected their cultural and community assets. There have been strong responses to the destruction of the program and a hearing is scheduled for January 2015 to challenge the decision.
We were reminded that this attempt to eliminate multicultural education is not an isolated event and has implications for all of us across the country, especially if we are to provide all students with a healthy balance of windows and mirrors. Organizing to understand what the stakes will be going forward is something everyone working for equity and diversity needs to consider.
Comments
No comments made yet. Be the first to submit a comment