We're happy to announce that ReSEED 10 will be April 24-26, 2020 in Seattle, Washington. For over 30 years, SEED's theory of action has consisted of individual reflection and development, interpersonal communication and relationships, and systems analysis and change within communities, organizations, and institutions. With this model in mind, we have developed our ReSEED trainings for experienced SEED leaders as a chance to revisit, renew, recharge, and recommit to working for a more just world.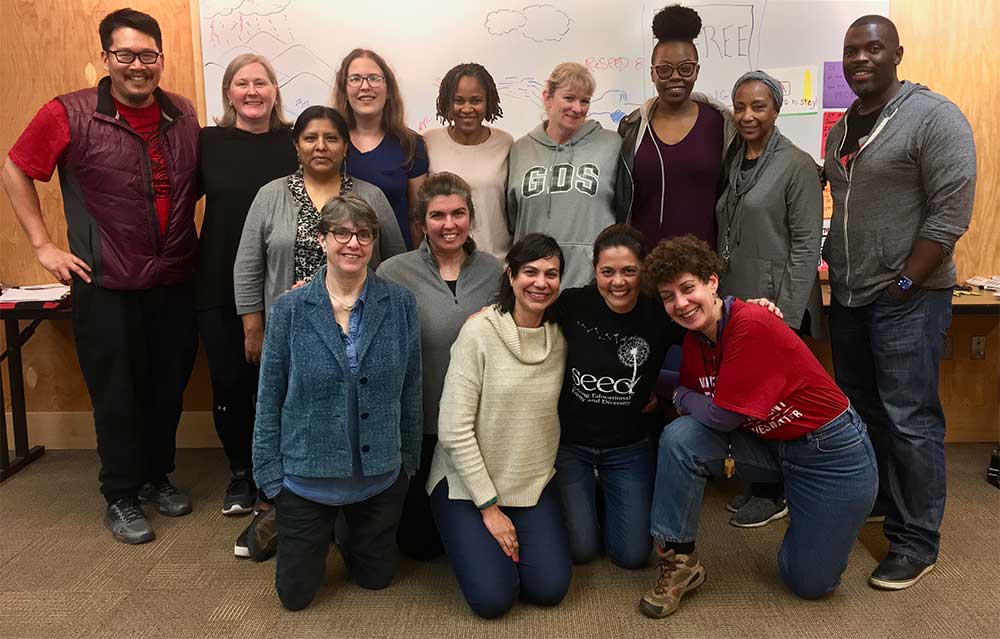 Coming into our 10th ReSEED, we want to name that our greatest success as a project has been at the individual and interpersonal levels. And yet, if we are really to move toward justice, we must hold ourselves accountable to systems analysis and change. Toward this end, we are reframing our ReSEED training to focus more on capacity building for analyzing systems and designing change. As SEED leaders committed to social justice, what does it mean to practice self-care, personal exploration, relationship building, and reciprocal affirmation in the spirit of work still to be done? This is the question that drives our updated vision for ReSEED.
Because ReSEED is a weekend rather than an entire week like New Leaders Week, we bring together smaller cohorts (12-18 people) here. This allows for more session flexibility and staff-participant conversations akin to our home group time during NLW. If you have attended a SEED New Leaders Week and have led or are currently leading a SEED seminar, we invite you to apply.
Rolling admissions will start immediately, and we recommend that you apply sooner rather than later. The cost is $1,400/person, which will include food and accommodations (three days and two nights) but not travel costs.
A $600 deposit must be made by February 15, 2020. This is nonrefundable unless the spot is filled by another participant. Full payment of the remaining $800 is due by May 15, 2020. If you choose to pay in full by the deposit deadline, any amount over $600 is refundable until April 1, 2020. Information on how to pay will be sent upon acceptance.
We currently have limited scholarship funds of up to $800 available. Please indicate on the application if you are interested in learning more about these.
If this session time does not work for you but you are interested in a future session, please let us know (info@nationalseedproject.org) and we will keep you posted.