One White Teacher's Challenge to Himself and White Brothers and Sisters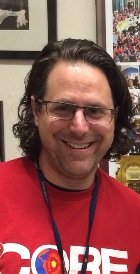 Post by SEED summer staff member Dan Cohen, English teacher and department head at Oak Park and River Forest High School in Illinois.
Learning of the lack of indictments of White police officers in the killing of unarmed Black men and women, my anger and frustration erupted at the racist systems and institutions. I was ready to act. Yet I quickly stopped and reminded myself that I, as a White male, am part of those structures. I am not immune. Therefore if I want justice and I want to dismantle those systems, I need to start with myself and do my own work and interrupt the racist default patterns that live inside me. With loving accountability I invite and challenge my White brothers and sisters to join me. This is our work.
To my White brothers and sisters: Let us sit in the pain.
I am angry, and I am not surprised. I am not surprised at the recent violence perpetrated onto Black men because I know the history of this country, and I know there has never been sanctuary for Black lives in White America. More than that — the real reason I am not surprised is that as a White male I learned the same biases and beliefs that fueled these violent, tragic racialized murders. I learned that Black lives mattered less. Therefore when a White officer kills a Black man I know deep inside of my White skin what led to the killing.
The justice system and our educational system are not broken. Those systems are producing the exact results they were designed to produce. They were not designed to serve black men and women. They were designed to serve and protect me and people that look like me. The system has taught me to fear black men and then create structures and institutions to dehumanize and demonize them. It is this pathology that Francie Kendall names when she said: "That White people could go to church in the morning and then go to a lynching in the afternoon and not ever think that those two things were in conflict."
I have walked around my whole life with a recording playing in my head that says Black men are dangerous, that Black men are committing more crimes because they are more violent, that Black families don't care about education, etc. I don't consciously believe these messages, but they have lived inside of me. These messages take up space precisely because the system has worked growing up as White male in America. We have all been socialized in this mess. I have another recording in my head that plays a different story. It is a story that has emerged in the last 25 years of my life learning and working for justice. That recording says that Black men are not dangerous. They are loving and kind and gentle. They are fathers, brothers, sons and lovers. They are smart and funny and beautiful and compassionate. They are humble and spiritual and creative. This list goes on. But if I am totally honest with myself, I know that those statements are not my default. The other recording is my default; it is my reflex; it is what Michelle Alexander calls the Zimmerman mindset. That is how the system worked to protect me and damage me while contributing to the destruction of Black lives in America.
I challenge my White brothers and sisters to sit in the pain with me and feel the damage and destruction. Let's leave our heads and journey into our hearts and work together to heal. This is our work. Before we get up and assert our privilege, or try to fix things, or name our White crimes or embrace and defend our good intentions — before those habits take over — feel the individual and collective pain. Listen to it. At this moment we must sit in the pain and feel it because it is our White hearts that are diseased; it is our White hearts that have dehumanized Black lives for centuries while fracturing ourselves and our country.
Comments
No comments made yet. Be the first to submit a comment