Join Us In Celebrating Peggy McIntosh
Join the Wellesley Centers for Women and SEED in celebrating Peggy McIntosh's lifetime of work on social change. SEED leaders and staff should look for personal invitations in their e-mail. (If you didn't get one, please contact us.)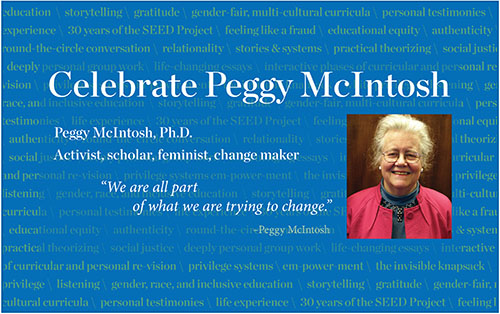 We will honor Peggy with:
Conversation with Peggy and Friends
Saturday, October 10, 2015
3:00-5:00 p.m.
This event is free but reservations required
Reserve your seat(s) online now
Cocktails and Celebratory Dinner
Saturday, October 10, 2015
6:00 - 10:00 p.m.
$125 per person
Purchase your ticket(s) online now
The Conversation with Peggy and Friends and the Celebratory Dinner will be held in Tishman Commons—Lulu Chow Wang Campus Center, Wellesley College, Wellesley, MA.
SEED Reunion
Sunday, October 11, 10-3 p.m.
In honor of Peggy and all of us. Free and only for SEED leaders. Light lunch included; limited to 150.
Reserve your place(s) online now
Get more information about these events, driving directions, and hotel accommodations at www.wcwonline.org/CelebratingPeggy
ReSEED: Revisit, Renew, Recharge
Additionally, SEED will be offering a second ReSEED: Revisit, Renew, Recharge opportunity for previously trained SEED leaders, October 8 - 10, 2015. We will be working on sharing and developing our facilitation skills both through session planning and through exercises modeling challenging situations during SEED seminars.
The cost for ReSEED will be $1600, which will include food and accommodations (four days and three nights) but not travel costs. ReSEED participants may also attend all Celebrating Peggy McIntosh events at no additional cost. We currently have partial scholarship funds available. If interested, please see further details and apply here. Applications are due by August 30, 2015.
Quote Square
Even if you can't make any of the above, we hope you'll join in the celebration with a Quote Square. These squares will be displayed during the October 10 event. Afterward, they will be put into binders for Peggy to keep.
On a 8.5 x 8.5" square of cardstock (any color), please copy a few words/sentences (in large legible lettering) that Peggy has published or written to you personally that have particularly instructed and/or affected you.
Illustrate your square any way you like. On the back, feel free to write Peggy a private message.
Mail your square by September 10 to Carole Bersani, The National SEED Project, Wellesley Centers for Women, 106 Central Street, Wellesley, MA 02481.
We would absolutely love to see you in person, however, should your calendar and resources permit!
Make a Gift in Peggy's Honor
Make a gift to The Peggy McIntosh Fund for Educational Equity and Social Justice and support Peggy's legacy of pairing theoretical insights with rigorous research and action as the key building blocks for creating social change for women and girls, families and communities-and for shaping a better world for all of us.
Make your gift online now
Call in your gift or ask for more details about giving: 781.283.2484.
Questions about these events?
Please e-mail CelebratingPeggy@wellesley.edu or call 781.283.3475.
Comments
No comments made yet. Be the first to submit a comment