Join SEED at the White Privilege Conference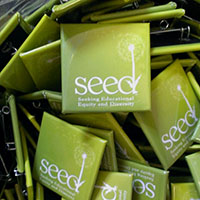 Going to the White Privilege Conference in Philadelphia this April? Join SEED Founder Peggy McIntosh along with SEED co-directors and staff for two exciting sessions drawing on and enhancing SEED work.
McIntosh, along with Founding Co-director Emily Style, Co-directors Jondou Chen, Gail Cruise-Roberson, and Emmy Howe, and Staff Member Dan Cohen will be facilitating:
Storytelling for Systemic Change

Storytelling - and specifically telling our own stories - links individual experience with systemic power dynamics including white privilege and white supremacy. Members of the National SEED Project staff will model three exercises in which participants testify to the process of their own racialization, i.e., being made to see and locate themselves and others in world in which race is seen to be real. When processed collectively, these testimonies allow us to work toward the freedom of self-understanding, restorative justice, and systemic change for equity.

19 Questions: Reimagining the Q & A format for democracy, freedom, and equitable power-sharing

Members of the SEED staff will demonstrate a reimagined Question and Answer technique that radically democratizes agenda-setting, expertise, and talking time. We will begin by collecting 19 questions from the participants based on their own concerns and experiences in matters of liberation, equity, and justice in relation to white privilege and white supremacy. After this, both the presenters and audience members will respond to each of the 19 questions in turn.
Please also stop by our exhibit table to talk more with us about the many things happening in SEED's 30th year. We hope to see you there!
Comments
No comments made yet. Be the first to submit a comment