Helping SEEDs to Grow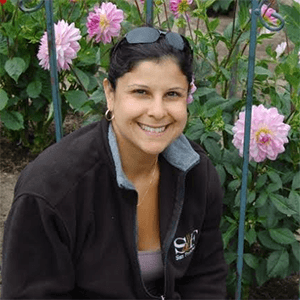 Patricia A. Matos, Greenwich Country Day School, 6th grade science teacher, SEED leader
There are rough days and there are great days. Facilitating SEED is not easy work; sometimes it takes all your skill at yoga breathing to get you through a moment (assuming you remember to do it!). What makes SEED tough? Sharing of yourself. Leaning into discomfort. Facing the societal inequities and seeing where you fit within those constructs. Facing your own privilege. And this is what the participants do! While these make SEED a personal journey for every participant, being a facilitator has its own challenges.
As a SEED facilitator, I have been thinking about the challenges that come with guiding a group and leading those difficult conversations. Each session, the mixture of participants and where they are on their personal journeys creates a fluid dynamic requiring careful navigation. Some challenges come from individuals whose "DKDK" (what they Don't Know they Don't Know) causes them enough discomfort that they challenge the social constructs being presented and unpacked. Sometimes the challenge comes when new material is presented and is dismissed because the participant(s) "already saw/read that." Others come when the schema of a participant seems etched in stone that no tool can shape. I find it especially difficult when a topic strikes a nerve and a participant becomes vulnerable and combative. The dynamics of any one, or a combination, of these situations, can sometimes make me want to step outside of my facilitator role and share "what I really think," and others make me question if change is even possible. It is in those moments that I remember to take those deep breaths and reflect on what else SEED has taught me.
First of all, each of these moments is always a humbling reminder to trust the process. Allowing participants to travel their own paths does yield results. Moments of reflection have great power to bring growth. While it may be small at first, growth happens both within and between sessions. It happens through writing, discussion, quiet moments, and through creative means like art. Second, there is always an avenue that can help a participant lean into discomfort and grow; it may even be best coming from another participant or a co-facilitator. Third, maintaining the role of facilitator and having other SEED folks to process and reflect with is invaluable.
Many of these lessons have come after facilitating and unpacking difficult conversations. Others have come from the participants who approach me to share how much SEED has meant to them and want to discuss other areas in which they see the dynamics of power and privilege at play. Reflections in private e-mails, the sharing of articles, and the "stories of the selves" shared beyond our sessions bring additional joy and reward. It is these experiences that continually demonstrate the importance of our SEED work. It is these experiences that have taught me that those seeds we plant, even the ones that look dormant, really do grow with care and trust in the process.
Comments
No comments made yet. Be the first to submit a comment