From Faculty Formation to Student Engagement: Reflections on Serial Testimony
SEED's practice of Serial Testimony "is more powerful than I ever imagined," writes Rachel Luce-Hitt, Coordinator of Educational/Training Programs in the Office of Diversity and Inclusion at the University of Central Florida (UCF). A trained SEED leader, Luce-Hitt co-authored this guest piece with SEED seminar participant Jeanine Viau, Lecturer in Philosophy at UCF. In it, they share their experiences with Serial Testimony in SEED seminars and in the classroom. Republished with permission from the UCF's Faculty Focus.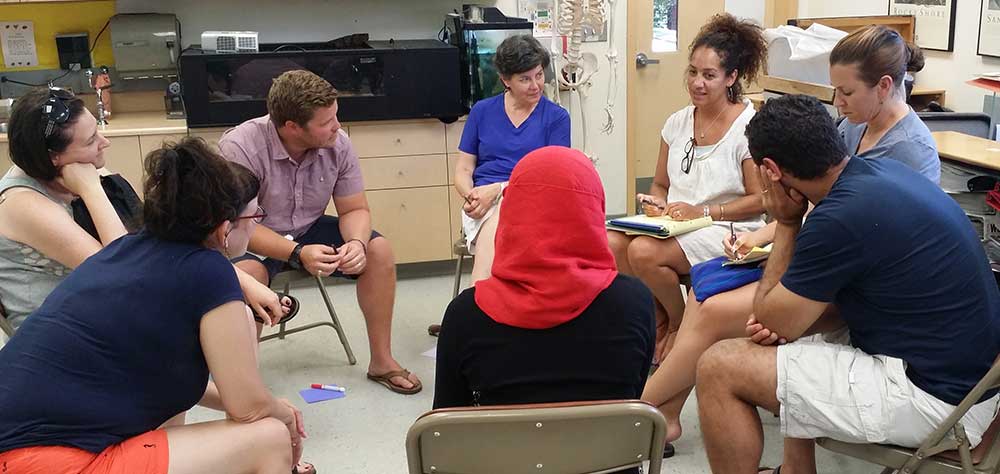 From Faculty Formation to Student Engagement: Reflections on Serial Testimony
Rachel Luce-Hitt is Coordinator of Educational/Training Programs in the Office of Diversity and Inclusion. She is responsible for the development of curriculum as well as the facilitation of workshops, dialogues, and experiences that aim to build a more inclusive university community. As a proud first generation college student, she earned both a Bachelor of Arts degree in Anthropology and a Master of Business Administration from Rollins College. Over the past 13 years, Rachel has worked as the Assistant Director of Multicultural Affairs at Rollins College and the Coordinator of Inclusive Excellence at Valencia College.
Jeanine Viau is Lecturer in the Philosophy Department, where she teaches courses in religion, humanities, and cultural studies. Her research areas include contemporary Catholicism, gender and sexual ethics, feminist theology, and queer studies in religion.
---
bell hooks' first practical suggestion for doing engaged pedagogy is that teachers must be vulnerable and integrate their personal narratives and experiences into their content and modes of facilitation. Self-disclosure extends to students in the process of community formation. hooks writes, "To hear each other (the sound of different voices), to listen to one another, is an act of recognition. It also ensures that no student remains invisible in the classroom. Some students resent having to make a verbal contribution, and so I have had to make it clear from the outset that this is a requirement in my classes" (1994, 41). We, the authors, as educators committed to social justice and diversity, share hooks' "dream of education as the practice of freedom" (1994, 30), even if we are not always certain about the feasibility of the democratic learning environment that she imagines. For example, an instructor leverages her authority—her power to pass or fail students—in order to establish a "democratic" learning environment and dissuade apathy.
With these limits and possibilities in mind, we present serial testimony, the central practice of the Seeking Educational Equity and Diversity (SEED) program, as an effective modality for approximating intimacy and freedom in the classroom. Both authors were part of the inaugural SEED year at UCF in 2016–17, Rachel Luce-Hitt as the facilitator and Jeanine Viau as a cohort member. The National SEED Project was developed by Peggy McIntosh. She believed that educators needed to be at the center of their own professional development. Using a cohort model, SEED brings people together to explore issues of equity and social justice through the lens of personal identity and experience. There is no blame, shame, or guilt in the process. It is a peeling back of the layers of how one's perspectives were formed and how their personal story exists and interacts within larger societal systems as opposed to focusing solely on responsibility for individual intentions and actions.
Serial Testimony is at the heart of this process. The technique uses structured, timed sharing of experiences and reflections (not opinions), en round, without dialogue or response. McIntosh refers to it as, "the autocratic administration of time in the service of democratic distribution of time." It values all voice and experience, limits the impact of traditional power structures, and provides an environment where multiple perspectives can be heard, side by side, without the need for approval, rebuttal, or response. The reflections below model the structure of serial testimony as we speak and hear each other into recognition.
Testimonies in Dialogue
JV: Since Participating in SEED, I have employed serial testimony in three of my classes—two GEP courses and one upper level undergraduate course. I used timed serial testimony to structure small group discussions in GEP classes pertaining to difficult course readings and topics, such as religious violence and structural racism. This strategy was somewhat successful as it increased participation and gave equal space to all students in the conversation. However, as these were medium to large classes, it was difficult to monitor the extent to which all of the groups adhered to the guidelines and how productive their conversations were.
More effective was the adoption in my upper level seminar Form & Fashion in spring 2017. I paired serial testimony as the core teaching and discussion strategy with auto-ethnography as the primary research methodology. This pairing was very exciting for students and has renewed my confidence in the possibility of bell hooks' vision of educating the whole person. The course began with students choosing an article of attire that was important to them and preparing a personal introduction centered on the item they chose. Students shared their articles of attire and introductions using the serial testimony format. I acted as a participant among them in this exercise and in each stage of their research development. They designed research projects inspired by their articles of attire. Several students fully embraced the auto-ethnographic approach. Examples of student projects included a curly hair memoir, a handbag timeline of her mother's immigration journey, and a cross-generational study of beauty ideals.
RLH: I did not actually like serial testimony when first introduced to it. It was uncomfortable. Sitting in a circle, sharing one by one but within the constraints of a stopwatch, without any kind of responses or even gestures of acknowledgement, and honoring freely chosen silence if someone did not want to speak—it felt unnatural and cold. I participated because it was expected of me, but I was not sure how effective such a technique would be. Since that first go around many years ago, the "discipline of the circle" has proven me wrong, over and over again, as I witness its genius play out in my SEED cohort and other classes.
As long as I took the time to not only provide clear guidelines, but also explain the reasoning behind the structure, amazing things would happen. The quiet person in the room all of a sudden had something to say; it's not that they did not have anything to say before, but serial testimony gave them equal air time that they didn't have to fight for and gave value and respect to their experience. The person that always had something to say and typically dominated discussions was now put in a position where they had to learn to be concise with what they wanted to express; they had the opportunity to truly listen because it was no longer their role to carry the discussion. People could truly be heard. I could even hear and understand myself better. We all had the opportunity to learn and grow from each other and ourselves. That's what serial testimony can do, and it is more powerful than I ever imagined.
Comments
No comments made yet. Be the first to submit a comment