Curriculum as Encounter: SEED Co-director Emily Style Pens a New Article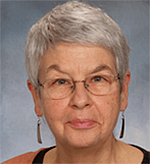 Just in time for Teacher Appreciation Week, SEED Co-director and English teacher Emily Style's latest article, "Curriculum as Encounter: Selves and Shelves," has appeared in the May issue of English Journal (available to NCTE members only). The piece extends her previous articles on "Curriculum as Window and Mirror" and "Resources and Strategies for Doing Window and Mirror Curriculum Work."
In her most recent piece, Style delves into the idea of finding a balance between the "scholarship on the shelves" — which fills traditional curricula--with the "scholarship in the selves" — the textbooks of students' own lives and experiences. She shares some of the exercises she has done with her students to manage the encounter between the curriculum on the shelves and that in the selves (and which SEED leaders will experience during New Leaders' Week). She then shows how teachers can use this approach of balancing shelves and selves to address "hot-button" topics such as race, and to nurture allies who are aware of the systemic effects of racism and other forms of oppression. This allows teachers both to acknowledge the life-texts of all students and to tap in to ally power, thus beginning to dismantle the systems that keep many caged.
The piece is only available to English Journal subscribers, most of whom are secondary school teachers of English. If you'd like to read the article but aren't a subscriber, find an English teacher near you! In the meantime, we've just posted her 1996 article, "Resources and Strategies for Doing Window and Mirror Curriculum Work," in addition to her original "Curriculum as Window and Mirror," so please enjoy reading or rereading those.
Comments
No comments made yet. Be the first to submit a comment