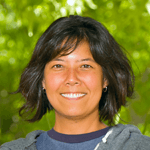 SEED summer staff member Motoko Maegawa's piece is the second of several posts this month about how various SEED leaders have used SEED methods and principles both to celebrate Black History Month and, broadly, to create a more multiculturally equitable and inclusive curriculum and community.
Motoko L. Maegawa
SEED Summer Staff
Head of Middle School
Bernard Zell Anshe Emet Day School
Chicago, IL
In my role as Head of Middle School, I have influence over curriculum decisions in a large sense and support of teacher initiative in a more specific sense, all with an eye towards how we as a school best support our students. I am so appreciative that having an understanding of SEED principles encourages and prompts me to strive to make just and equitable decisions on behalf of the middle school student body.
I feel that SEED training and facilitating directly influenced me actively supporting a newly created civil rights/Black history unit developed by the three reading/writing workshop teachers in our sixth grade. This book-club based unit allows students to explore civil rights history through the reading and discussing of books about Martin Luther King, Jr., Malcolm X, Claudette Colvin, Emmett Till, and the Freedom Walkers. Personal testimony, journaling, and developing public opportunities for sharing thoughts and understandings further not only student growth but encourages community dialogue as well.
From here, students are encouraged to bring the study of the African-American civil rights movement to current day issues felt by our students and their families in the also ongoing struggles for religious equality and marriage equality. When students fully reflect upon the indelible image of Rabbi Joachim Prinz marching along side Revered Martin Luther King, Jr., it is not just the image which speaks a thousand words, but the faces of the students as they come to more fully understand why the study of all aspects of civil rights is important for their personal freedoms.
The grade writes and presents at our Martin Luther King, Jr. Day/Black History Month middle school assembly. Many of the themes of this unit are ones we explore in different ways at other times of year as well. The unit is the follow up to the grade level's study of The Misfits by James Howe, a book that gets students involved in student rights and student activism conversations. The Misfits unit is another one I endorsed and is their opening grade level read. I also actively support student work by hearing their speeches they write afterwards about why the messages in The Misfits are important in schools.
Due to the wealth of resources that I have available through SEED training and being a part of the SEED network, I am able to knowledgeably and actively support the teachers when they take on meaningful curriculum like The Misfits and the civil rights book clubs. Video links, organizational connections, and articles are all tangible things I can reference should a question about our curriculum development and implementation arise. (And, due to the hard work of the middle school faculty to clearly make connections of curriculum to the mission of our school, these questions are few and far between!)
I am proud to encourage the work of the middle school faculty as they look to create curriculum that allows, and even demands, student voice, personal experience, and acknowledgment of both personal and community successes achieved and challenges still to face. With my own SEED training, I know that I can personally and professionally support the efforts of my teachers to offer inclusive curriculum that allows students to see themselves in mirrors and understand a greater world beyond their experience through windows offered in our sixth grade civil rights unit.