Come to SEED Workshops at the White Privilege Conference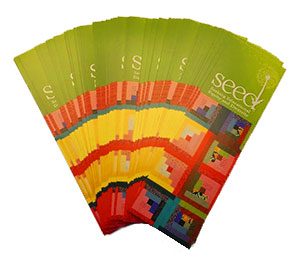 SEED will be offering two different workshops at the White Privilege Conference in Louisville, Ky., next week, facilitated by Co-directors Emmy Howe and Emily Style and Associate Directors Jondou Chase Chen and Gail Cruise-Roberson. We hope you'll attend to learn more about SEED's unique approach to equity work, or to refresh your skills if you're already a SEED leader or seminar participant.
If you can't make the workshops, you can simply stop by our exhibit table to say hello!
Going Around the Circle: Using Serial Testimony to Build Resistance, Action, Courage and Equity
Date/time: Thursday, March 12, 2015, 11:00 a.m. – 12:30 p.m.
Level: Beginner
We will demonstrate how Serial Testimony serves as a pragmatically and pedagogically progressive strategy, which helps to build relationships and strengthen communities within classrooms. We will model how going around the circle can be a teaching method based on students' agency and experiences rather than teachers' authority and opinions. It can help to heal divisions in classrooms between students of different ethnic, racial, gender, regional, religious, and sexual identities and backgrounds and build the courage to take action.
Participants will learn that equity-based resistance requires making sure that all voices in a classroom are heard, if only by one other person at a time, through using what Peggy McIntosh calls "the autocratic administration of time in the service of democratic distribution of time." In serial testimony, the tendency to challenge others and win arguments is replaced with students' appreciation of listening to, learning from, respecting, analyzing, empathizing, and understanding peers whom they have been taught to ignore, disrespect, or fear.
The Self Leading the Way: The Critical Necessity of Developing and Telling Our Own Stories
Date/time: Thursday, March 12, 2015, 3:15 p.m. – 4:45 p.m.
Level: Beginner
Storytelling can help individuals share and make meaning from personal experiences. Storytelling then is not only about recounting past events but also explains how one sees the world and shapes future goals. Stories often involve social dynamics and can be used to reinforce or change power paradigms that serve to oppress or empower individuals and communities. Storytelling is a key pedagogical component of the National SEED Project goal to seek educational equity and diversity.
SEED believes that:
we all have stories, and thus storytelling is democratically social;
some stories are familiar, some are unfamiliar for us, and thus storytelling is interactively educational; and
some stories are systemically elevated or validated while others are distorted or ignored, and thus storytelling is critically political.
In this session, SEED staff members will present four storytelling exercises for session attendees to participate in and to take with them in their future equity work. Attendees will leave the session feeling personally validated, interpersonally informed, and equipped with both a framework and strategy for advancing equity work.
Comments
No comments made yet. Be the first to submit a comment