Recalling the Civil Rights Era and Celebrating Black History Month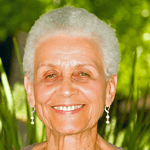 As a classroom teacher in 1961, SEED summer staff member Willa Cofield and her students watched as the Freedom Riders non-violently challenged segregation on public buses. Willa here shares how she is using her personal experience during the civil rights era, along with SEED methods, to celebrate Black History Month and "to continue honoring Black history throughout the year."
Willa Cofield
SEED Summer Staff
New Jersey Department of Education (retired)
Producer, The Brick School Legacy
On the very first day of Black History Month this year I, along with three other panelists, spoke about the civil rights era at the New Brunswick, N.J. Public Library. Rutgers University history professor Clement Price moderated the discussion. The program was sponsored by the African American Heritage Committee and The New Brunswick Free Public Library and supported by the National Endowment for the Humanities.
First, we watched portions of the documentary The Freedom Riders, the story of the brave men and women, who in 1961 rode public buses into the Deep South. The bus riders risked their very lives as white local and state authorities ignored or encouraged violent attacks.
Among other comments, I linked my own teaching in the classroom to the video. In 1961 my students and almost everyone else followed the daring Freedom Rides closely. The rides showed us courageous examples of people, many of them just a few years older than the students I taught, successfully challenging segregation. The Freedom Rides introduced us to the practice of non-violent resistance. Although we did not know it, the Freedom Rides helped prepare us to challenge racial segregation in our own community. The panel discussion spilled over into the audience with many participants asking questions and sharing personal stories regarding their encounters with racism.
I also asked that those who attended the program celebrate Black History Month by allying with the Black people of Newark, who are facing widespread closing of their public schools. Public education and control of the schools in Black communities remain central to the struggle for social justice and self determination. By acting to bring about educational equity, we can honor Black History and positively impact the lives of Black children.
On February 11, in commemoration of Black History Month, adult members of Women in Conversation and Men in Conversation (a SEED-like community reading/discussion group) joined the boys and girls in our middle and high school groups in discussing Dr. Martin Luther King's "Letter from a Birmingham Jail."
In the letter, Dr. King responded to criticisms of local ministers who condemned his campaign to end racial segregation in the city of Birmingham. He called many of their criticisms unjustified and incorrect, supporting his assertions with examples from the Bible and history. He described the steps in his non-violent campaign and expressed his disappointment with white moderates. He used examples of his children to show the cruelty and awful impact of racial segregation upon the human soul and personality. The letter is brilliant in its logic, analysis, persuasiveness, emotional impact, and use of language.
Fifty years ago when we challenged racial segregation in Enfield, North Carolina, we heard some of the same criticisms: we should have more patience, we were trouble makers, the people who came to help us were outside agitators and communists, it would be disastrous if we tried to integrate the white schools.
In 1963, before we began our struggle for change, I felt very isolated in my small North Carolina town, but once a small group of us challenged the pervasive racial segregation, individuals from many other communities and states came to help us. Many of them acted on the principle that it is not enough to fight the particular brand of oppression that affects one personally. Dr. King asserted that injustice anywhere is a threat to justice everywhere. He pointed to the interrelatedness of all communities and states We must condemn and oppose oppression that affects any individual or group.
Some of the adult members of our conversation group attended a presentation on Dr. King's "Letter from a Birmingham Jail" by the Young Scholars at the Schomburg Center for Research in Black Culture in New York City. We did not learn of this program in time to take young people with us, but we expect to take them to the Youth Summit at the Schomburg on May 11.
Finally, I will celebrate Black History Month with Seniors in Conversation at the Woodland Genesis Nursing Home on February 18. We will begin by reading some of the poetry of Paul Laurence Dunbar. Our agenda includes a quiz on Black history, which I found in an old issue of The Black Collegian.
We will hand out African aphorisms and proverbs and ask each resident to read one. We will then ask the residents to recall sayings that they heard when they were growing up (much like the SEED exercise in which participants are asked to recall the early messages they heard about being a girl or a boy). My co-coordinator will accompany us on the piano and a friend of hers will lead us in singing some well-known spirituals, including "Every Time I Feel the Spirit", "We Are Climbing Jacob's Ladder," and "Woke up this Morning." We will end with the civil rights anthem, "We Shall Overcome."
I will end this month by vowing to continue honoring Black history throughout the year. I believe deeply that the Black experience lies at the heart of American history and cannot be restricted to one month. I will also continue my efforts to support the struggle for social justice through my work with young people, senior citizens, and activism in the community.
Comments
No comments made yet. Be the first to submit a comment