Apply Now for 2014 SEED New Leaders' Week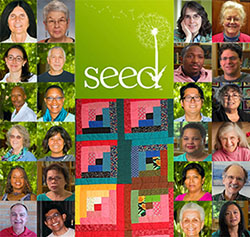 The application for the 2014 SEED New Leaders' Week is now online! New Leaders' Week is a seven-day, teacher-led, residential workshop at which 30 to 40 educators, parents, and community leaders are immersed in multicultural SEED materials and methods.
New leaders then create and facilitate year-long, monthly SEED seminars with up to 20 colleagues or peers in their own schools or communities, focused on making curriculum, teaching methods, and climates more gender-fair, multiculturally equitable, socioeconomically aware, and globally informed.
Applications are due to the National SEED office by May 15, 2014 (after May 15, call for availability).
Full and partial grants are available to qualifying institutions!
Download the application, learn more on the New Leaders' Week page, or contact us if you have questions.
Comments
No comments made yet. Be the first to submit a comment