Anoka-Hennepin Celebrates 25 Years of SEED
SEED is proud to be celebrating its 30th year--and proud that one school district has been with us for almost the whole journey, recently marking its 25th year of SEED seminars!
Educators and others who attend SEED New Leaders Week must return to their schools or communities and lead a SEED seminar for colleagues during the next academic year--but some institutions, like the Anoka-Hennepin School District in Minnesota, have chosen to continue their SEED programs for years after that. Anoka-Hennepin marked 25 years of SEED with an event on March 2nd recognizing the many people across the district who have been involved as SEED leaders, SEED seminar participants, and supporting administrators. Teacher, public speaker, and writer Kao Kalia Yang, author of The Latehomecomer: A Hmong Family Memoir and The Song Poet: A Memoir of My Father, was the invited speaker.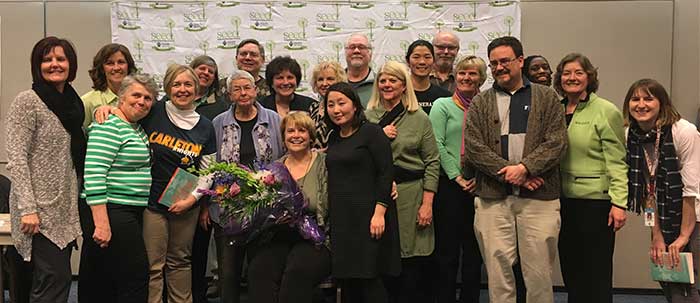 Attendees at the Anoka-Hennepin SEED Celebration
SEED began in the district when Mary Jo Merrick-Lockett, a high school social studies teacher, attended SEED New Leaders Week in 1991 at the urging of Cathy Nelson, Minnesota Teacher of the Year. Merrick-Lockett's school was the largest in Minnesota, 15 miles north of downtown Minneapolis. At the time, suburban growth was absorbing the school into the larger metro area. "With that growth," she wrote in an essay about her SEED experience, "came an increasing number of students of color. Questions about how to accommodate the change in demographics were constant and growing. How intimidating for those students of color, mostly African-Americans, to come to a school with 3,300 White students and approximately 200 white staff!"
SEED helped the school--and the district--better understand and respond to these changes in ways that benefited all students and faculty. Merrick-Lockett explained:
It was the members of this initial SEED group of 16 who became the core for many building and district initiatives that attempted to welcome, inform, and address the demographic and societal changes through curriculum changes, new courses, staff development, diversity clubs, and multicultural shows. We even created a Future Educator Club in order to "grow our own" teachers with an eye on developing more teachers of color and broadening the education of White teacher candidates.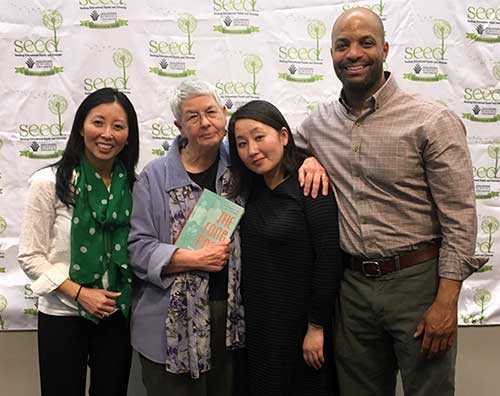 Author Kao Kalia Yang; SEED Founding Co-director Emily Style; SEED Minnesota Regional Network Coordinators Kari Xiong and Kerwin Bell
Merrick-Lockett wrote last month to SEED Founder Peggy McIntosh and Founding Co-director Emily Style:
I am so glad I took Cathy Nelson up on her request to join her and you in the summer of 1991 at Palo Alto. It truly was a life-affirming and life-changing decision for me. Your leadership and vision gave me hope, gave me a vocabulary, and gave me resources to persist in educating myself and others about systems of oppression. I have led SEED seminars for 25 years for hundreds of teachers in our district, helped train other SEED leaders, embedded significant changes in curriculum in our district, given students windows as well as mirrors, and fought to create a better world for my own children as well as those of thousands of students as a classroom teacher for 40 years.
We have five seminars running in our district this year with about 100 teachers participating.... I wanted you to know how you positively personally and professionally impacted my life, that of hundreds of teachers in my district, and thousands of students.
We offer our greatest appreciation to Mary Jo and all of the others who have spread SEED throughout the district. We look forward to continuing our work together in the years ahead.
Comments
No comments made yet. Be the first to submit a comment