An Educator's Reactions to the Eric Garner and Michael Brown Cases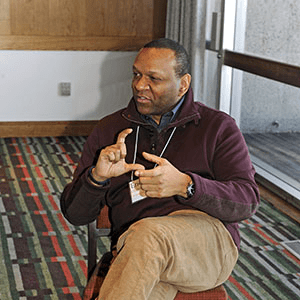 Modeling strong leadership through vulnerable transparency, SEED leader and former staff member Eric Chapman, head of the Middle School at the Calhoun School in Manhattan, wrote to his staff about Eric Garner and Michael Brown, Jr., and has allowed us to share his words here.
Good afternoon,
I've started this message several times over.
The words do not come easily as I contemplate how to comment on the recent verdict in the Eric Garner and Michael Brown cases. This message will not be about resources or guidelines for conversations, which will be in subsequent messages from others or from me. If you will allow me, this is a bit more personal.
Much of my day yesterday and today have been in conversation with students, faculty and parents about the harsh reality we are now in after the decisions. To quote one colleague : "I'm having a tough time believing this is the America of my adult life."
On many levels and with many aspects of my identity I connect this. As a Black male born and raised in New York City I have my own experiences with police brutality so I cannot say I am surprised by the incidences or even the verdicts. However as a father of a young Black male, I am a bit stymied. As he gets older what shall I say to prepare him for how his life is valued? If I am to be honest, it will not be a positive set of conversations.
As an educator I find it hard to believe we have not learned valuable lessons from our nation's turbulent and violent past. However, I am heartened to know that so many of us in the community are equally upset, disturbed and dismayed by the two rulings.
I am comforted by the fact that several of you have approached me with ideas of how we can respond to this as a division and an entire school. You will soon hear about ways and ideas that we can come together in the future as a larger school to morn and dialogue about these decisions. For the Middle School, I have heard ideas from faculty, students and parents about either meeting all together, grades 5 to 8, by grade or by cluster. A mixture of all the above may be a good idea as well. I would welcome ideas you have for the Middle School division and ways that we can connect next week about this.
Thank you for allowing me the safe (cyber) space to communicate these thoughts. Enjoy the weekend and, as I have said often lately, please continue to hold those close to you tightly.
Best,
Eric
Comments
No comments made yet. Be the first to submit a comment