All Welcome to SEED Showcase in Bay Area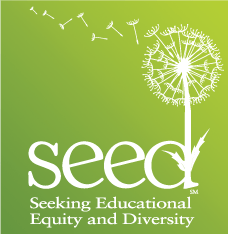 The Bay Area Regional SEED Network invites all educators, parents, and community leaders, as well as existing SEED leaders, to a SEED Showcase Day offering a sampling of workshops on race, gender, ability, diversity, and inclusive families.
The Bay Area Regional SEED Network is part of the National SEED Project, a peer-led professional development program that promotes change through self-reflection and interpersonal dialogue and builds capacity for more equitable curriculum, campuses, and communities.
Those new to SEED will learn more about what SEED is and experience the unique blend of personal reflection, experiential activities, and facilitated dialogue that empowers SEED group members individually and collectively to be more gender fair, multiculturally equitable, socioeconomically aware, and globally informed.
Existing SEED leaders will have the chance to reconnect with SEED colleagues and staff and to refresh their knowledge of SEED methods and approaches.
Date: Saturday, February 21, 2015
Time: 8:30 a.m. - 4:30 p.m.
Place: First Congregational Church of Oakland
2501 Harrison at 27th St.
Oakland, CA 94612
Childcare will be provided as needed for those who notify us by January 21, 2015.
To register please click here by January 21, 2015 to send the following information to judy.logan@sbcglobal.net. (If the link doesn't automatically launch your e-mail program, you will have to copy and paste or retype these fields into an e-mail manually.)
Name:
Email address:
Address
City:
State:
Zip:
Phone:
School or Organization:
Position:
First Workshop Choice Strand:
Second Workshop Choice Strand:
(Please read the workshop descriptions and schedule grid below and choose either strand 1A, 1B, 2, 3, 4, or 5. Include a 2nd choice, as workshops will be first come, first serve.)
For questions please contact our logistical point person:
Chris Dunlap, Teacher, Head-Royce School, Oakland, California, National SEED Project Staff, cdunlap@headroyce.org.
Presenters
Dr. Brenda Flyswithhawks, Co-director, National SEED Project; Professor of Psychology, Santa Rosa Community College, Santa Rosa, California
Dr. Jondou Chase Chen, Associate Director, National SEED Project; Research Associate, Education, Equity and Society, College of Education, University of Washington, Seattle, Washington
Dr. Janice Koch, Professor Emerita Hofstra University, NY; author, Science Stories: Science methods for elementary and middle school teachers, 5th ed. and TEACH, 3rd ed.
Christine Saxman, English Teacher, Township District 113, Deerfield, Illinois, National SEED Project Staff and Pacific Educational Group Affiliate who has led workshops at the White Privilege Conference and the Summit for Courageous Conversations About Race
Victor Lewis, MA, Founder and Director of the Radical Resilience Institute, and Radical Resilience Coaching and Consulting; Progressive Life Coach, trainer, speaker, and social justice educator
Loren Moyé, Math Teacher, Director of Diversity, Dean of Students, San Francisco Day School, San Francisco, California, National SEED Project Staff
Karen Richards, Head of Art Department, SEED Leader, San Francisco Day School, San Francisco, California
Marcia Lovelace, SEED Librarian, National SEED Project Staff, Oakland, California
Judy Logan, author of Teaching Stories, and That's a Family! Curriculum Guide, National SEED Project Staff, San Francisco, California
Workshop Descriptions
I'm White? I am White - Using White Identity Development to Expand White Racial Consciousness Christine Saxman (3 hours)
How do you examine your personal racial consciousness as a White person engaging in anti-racism? How do you support White people in schools that require increased racial consciousness? Participants in this workshop will use the work of Dr. Janet E. Helms to understand a model of White Racial Identity Development. Participants will personally apply the model in individual consciousness work, share their insights, and consider how to increase consciousness at their schools.
What's keeping you from believing? The Need for SEED in 2015 Jondou Chase Chen (1 1/2 hours)
What would it mean for us to reflect on, share about, and listen to one another's experiences on being educators, community leaders, family members, and students? How can increasing self-awareness and interpersonal engagement lead to institutional changes that support all students' learning? After almost 30 years, SEED has continued to thrive in creating conversational communities that drive change because we know that there are more stories that have yet to be shared.
States of Grace Judy Logan (2 hours)
Workshop participants will view the inspiring 90-minute documentary, States of Grace, and explore what it means to experience a life-changing event. Dr. Grace Dammann's life was forever changed when a driver crashed head on into her car during a routine commute across the bridge in 2008. After spending more than a year in rehabilitation hospitals, the film follows Grace as she returns home to Green Gulch Farm Zen Center in Marin, where she lives with her partner Fu Schroeder and their adopted teenage daughter Sabrina. States of Grace paints an inspiring portrait of trust and devotion as it delicately documents the pain and power of one woman's fight to reinvent herself.
Having a History - Women in Science Janice Koch (1 hour)
Women have always done science and among them are those whose voices pushed the boundaries of discoveries but whose names are not well known. Hear their stories and tell your own.
Understanding How "Indian" Mascots Oppress Brenda Flyswithhawks (1 1/2 hours)
This workshop will address the hidden agenda behind "Indian" mascots and logos as a cultural, spiritual, and intellectual exploitation of Native peoples and their culture. The issues of power, control, and dominance will be addressed to understand why historically these names were chosen, and why now, they must be changed. Participants will leave with a better understanding of how "Indian" mascots serve to trivialize Natives as a people and reinforce tolerance of racism in schools.
Picture Books Are Not Just for Children Marcia Lovelace (1 1/2 hours)
This workshop will introduce participants to books and other media that can stimulate discussions, give a face and story to issues – provide mirrors for students' lives and windows into others. We will share titles and activities that will explore diversity, equity and issues of oppression for use in classrooms for all ages.
Gender and Systems of Power Loren Moyé and Karen Richards (1 1/2 hours)
This workshop will explore how gender is affected by systems of power in the society in which we live. We will use videos, whole group conversation and journal prompts.
This is Your Brain on Race Victor Lewis (1 1/2 hours)
In this workshop, a veteran social justice educator presents information on how the new neuroscience sheds light on how racism persists and what it will take to dismantle it. He will show how we need to become "brain-savvy" as educators and activists in order to make a world beyond racism a reality, and will make the case that strategic nonviolent activism is the practical embodiment of this insight. Finally, he will introduce some practical tools for training our brains for racial justice.
Schedule Grid
8:30-9:00
9:00-10:30
10:30-12:00
12:00-1:00
1:00-2:30
2:30-4:00
1A
Coffee & Registration

White Identity

Christine Saxman

LUNCH

Gender & Systems of Power Loren Moye Karen Richards

This is Your Brain on Race
Victor Lewis
1B
Coffee & Registration

White Identity

Christine Saxman
LUNCH
Women in Science
Janice Koch
Documentary film States of Grace
Judy Logan
2
Coffee & Registration
Why SEED?
Jondou Chase Chen
Indian Mascots
Brenda Flyswithhawks
LUNCH
White Identity
Christine Saxman
3
Coffee & Registration
Picture Books Are Not Just for Children Marcia Lovelace
Why SEED?Jondou Chase Chen
LUNCH

White Identity

Christine Saxman
4
Coffee & Registration
Why SEED?
Jondou Chase Chen
Indian Mascots
Brenda Flyswithhawks
LUNCH
Gender & Systems of Power Loren Moye Karen Richards
This is Your Brain on Race
Victor Lewis
5
Coffee & Registration
Picture Books Are Not Just for Children Marcia Lovelace
Why SEED?Jondou Chase Chen

LUNCH
Women in Science
Janice Koch
Documentary film States of Grace
Judy Logan
Comments
No comments made yet. Be the first to submit a comment