20 Questions for Peggy McIntosh: Questions 1 and 2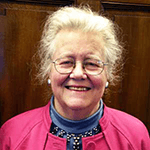 SEED Founder Peggy McIntosh answered 20 questions about SEED for the Wellesley Centers for Women's Research & Action Report several years ago. Her answers continue to offer insight on SEED's unique approach to professional development and education. We will be posting one or two here each week over the next several weeks. Please come back to read them all!
1. Over the course of 18 years, the number of teacher enrollments in year-long SEED seminars has topped 30,000. What's the inducement for busy teachers to enroll in a voluntary, unpaid, monthly seminar?
The 14 senior staff members of SEED would probably give you 14 different answers to that question. That's one characteristic of the project's richness — in fact, I should say diversity! But I think all of us would agree that SEED deepens awareness of both our own stories and the larger worlds we are in.
2. Can you say more about what you mean by stories?
In the SEED Project we use a lot of interactive exercises that draw on people's experiences — and I don't mean opinions — and do so in a group setting. This process is designed to be supportive, respectful, challenging, interesting, and growth inducing. It is also potentially transformative. I feel this is why busy teachers show up. I remember that twice, when schools were closed because of a strike and a race crisis, teachers continued their SEED seminars. Members said SEED was for them; it was not something they had to do.
Comments
No comments made yet. Be the first to submit a comment