Watch this short video of what SEED leaders say about the impact of SEED on their schools' climates.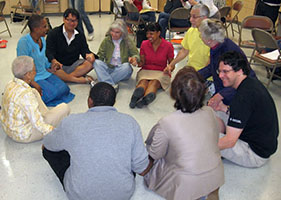 A guest post by SEED leader Scott Lowery, Teacher, Winona Area Public Schools, Winona, Minnesota
Looking back, I'm surprised that I found my way to that first SEED circle. About ten years into my teaching career, almost every in-service learning opportunity I'd experienced had registered within a disappointingly narrow range on my personal response scale, from tedium at best to mild torture at worst. Mine was the usual conditioned skepticism any workshop presenter faces from experienced teachers.

Jessie Lortie, a high school teacher and SEED leader from Boston, says that leading a SEED seminar for her colleagues has been transforming for the school faculty, students, and community as a whole: