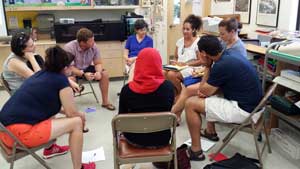 Update, 7/17/2017: Our application deadline for 2017 has now passed, and all of our 2017-18 spots are full. Please check back this fall when we announce the dates for 2018-19.
Thank you for your interest in SEED!
The application has two required sections and one optional section:
Part 1: New Leaders Application: Applicant completes at the link below.
Part 2: Administrative Support Form: Administrator completes on behalf of applicant. The administrator you name in your application will be sent an e-mail link to do this once you have completed the New Leaders Application.
Part 3: Optional Scholarship Section: If you are seeking a scholarship, the administrator must complete the scholarship section at the end of the Administrative Support Form. (See criteria/details about scholarships below.)
Parts 1 and 2 must be submitted for application to be considered complete. SEED will not review until Parts 1 and 2 are submitted.
Should you be accepted, you would be expected to attend one of several similarly structured SEED New Leaders Weeks. Your application indicates the location and date of the week you want to attend.
You will also design, coordinate, and facilitate a year-long, monthly SEED seminar in your school, district, or organization with 15-25 of your colleagues during at least one school year. SEED New Leaders Week prepares you for the leadership of this seminar.
If you have any questions, please do not hesitate to contact us at info@nationalseedproject.org.
If you are seeking a scholarship:
SEED provides a limited number of scholarships to eligible institutions and nonprofit organizations. The scholarship portion of the Administrative Support Form must be completed by a school principal/head or organizational administrator authorized to approve and receive funding and to support all aspects of the SEED seminar, including finances, logistics, and promotion of equitable education in the institution. We must receive the scholarship portion and the full Administrative Support Form from the administrator, as well as a completed New Leaders Application from each person who wishes to become a SEED leader.
The basic criteria for scholarships are:
Applicants must be early childhood education centers, K-12 schools, higher education institutions, or nonprofit organizations.
Scholarships will be awarded based on demonstrated institutional financial need, and diversity in terms of marginalized populations.